Stage Story runs creative writing workshops in London's Chelsea Theatre led by professional tutors and experienced actors for children aged between 6 and 11. Our workshops are unique in using theatrical performance to equip children with the essential building blocks of a good story and to inspire them to craft original tales that captivate readers both at home and in class.
From aspiring authors to reluctant writers, the magic of the stage helps all our students discover the power of words on a page.
More About Us
Our Team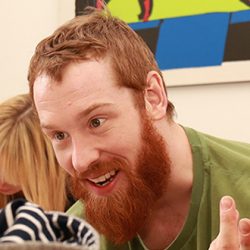 Mike Edwards
Mike is known for his energy, wit and charisma on stage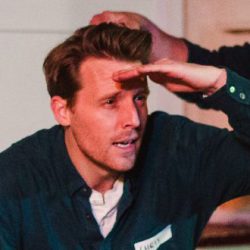 Chris Harper
A favourite amongst children, Chris is adaptable, hilarious and spirited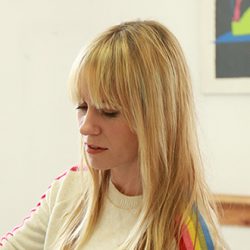 Emily Ripley
As a writer herself, Emily loves nothing more than tutoring creative writing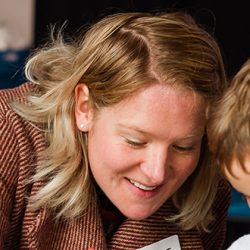 Georgina Edwards
Georgina is the powerful voice behind the narration - adding fun and charm
---
In a word: Outstanding! Emily's workshop it's dynamic. It pushes children outside of their comfort zone, steering them away from cliched repetitive writting  and enabling them to think more visually about the devices they employ. Delivering more impactful writing with changing pace, humour, intrigue and provocation to keep the reader interested.

I would like to thank you and the Stage Story team for doing a one of a kind, inspirational, fun, educational and absolutely amazing job in teaching kids writing creative stories. Our son enjoyed every session and my husband and son absolutely loved the actors's performances. I believe that Stage Story laid a solid foundation in my son's writing and helped him to successfully pass 8+ examinations, securing place offers from Westminster Under School, St Paul's Junior, King's College Junior, Dulwich College Junior and Eaton House The Manor.

I was lucky enough to get to watch the end of one of the Stage Story sessions, as two professional actors brought the children's scripts to life….fun, engaging, memorable…my kids – year 3 and year 6, loved Emily and her talented team's sessions from the start. A great way of showing kids that they all have a tale or two to tell and how to tell them well.

Now as a mum you know your child has it in them (as does every child) and you know they just need someone to shine a light on their creativity, inspire them and watch them fly. Emily did that with my boy in 5 weeks and he got into Sussex House.

My daughter is already putting into practise the teaching. Stage Story makes it happen because they literally visualise characters, senses and feelings. It's the best!!

You know when you had a teacher either as a child or a teenager who could make English amazing and resulted in you really doing your best, well that's what Emily does.

My son really enjoyed Stage Story. He really liked working with Emily and with the actors. Enabling him to see what his stories were like when acted made them more real. The acting of his stories also made it fun for him and motivated him to be more accurate. Stage Story enhanced my son's imagination rather than teach my son a pre-made format which schools do not like.

Our son, who is generally not keen on writing, really enjoys his Stage Story experience. The environment is very supportive and the fact that HIS story gets acted out at the end of the class makes it fun.  The actors are amazing and full of enthusiasm and energy.  We really enjoyed watching kids stories come to life at the end of the class.

You really couldn't be in better hands than with Emily and her team.  They have made learning fun for our son.  When he started his confidence was at an all-time low. Now he loves to put his ideas into a written story and especially loves watching it all play out before his eyes.

My son loved the workshop today and I had a blast hearing and seeing all the acting and the story telling. What a fantastic workshop. I wish you had one for the parents too!!

We started going to Stage Story as part of my son's 8+ exam studies. Initially, like many other boys, my son was not excited about a writing course every other Sunday. However, each time he went, he left happy. After having completed the 8+ exams, my son requested that I keep him enrolled in Stage Story, which I have done. The course has not only improved his writing, but also improved his enthusiasm about writing and the creative process generally. Thank you Stage Story!

Taking part in a Stage Story workshop with Emily and her gang was a fantastic opportunity for my 6 year old daughter.  I was a little concerned that much of it would be too sophisticated for her but no, not only did she immediately announce that she wanted to do it again, even weeks later she is still reminding me what she learnt during her session.  The actors were fun and engaging and Emily's instruction pack is beautifully thought out, entertaining and clear.  Can't wait to visit another one!

My boys were not super excited to do "work" on a Sunday but, after their first experience at Stage Story, they came running out so excited and enthusiastic about the fun they had – they couldn't wait to go again!  It is such a pleasure to see them learn and love learning!  Thanks Stage Story!

My 6 year old son enjoyed every lesson at Stage Story – he would choose to attend this over attending birthday party if both were at the same time! He found it inspirational to write at Stage Story and loved every bit of how the session was conducted, from planning the plot and having it acted out. This is where learning is most effective!

My daughter loved Stage Story! She had been having confidence issues at school, so to be taken out of that environment and shown a completely new way of expressing herself and her own original ideas, was an absolute gift! After the workshop she wrote her own much longer story which she is extremely proud of, and I am of her!! Thank you Emily and a talented bunch of enthusiastic actors!

I would like to thank you for the Stage Story team for doing one of a kind, amazing job in teaching my son creative writing and giving him more confidence in himself. My son especially loved to see his story come alive through the performances at the end of the class.

My son was struggling with story writing at school  in Year 1 and we decided to try Stage Stories. The first time my son attended a workshop he wrote just  2-3 sentences. The second time he wrote almost a page. On his third workshop he wrote  a page and a half.  Since then he has made a steady progress and his stories now have a clear structure with an introduction, a core part and an end.  His imagination and ability to express his thoughts on paper have increased so much that he now enjoys making up stories frequently , outside of school and the Sunday workshops. I am grateful to Stage Stores, especially Emily and Chris, who have inspired my son and made him enjoy story writing.


Amazing workshops in a very positive environment and with dedicated team of actors! The kids are encouraged to do their best in creative writing and are rewarded with a dynamic and funny performance of their work. Lucas doesn't quite enjoy writing but with stage Story, he absolutely enjoys watching his work brought to life!

My 2 boys, aged 7 and 6, attended Stage Story last term, primarily because the 8+ was looming and my 7 year old was a very reluctant writer.  He really did not see the point of writing.  However, Stage Story changed all of that. He adored seeing the (very talented and enthusiastic) actors acting out his story. We have not been allowed to miss a single session.  Even now, with the 8+ exams behind us, he is still keen to continue, even insisting upon going on his birthday! My, only just 6 year old, was very young for it at the start but he enjoys the sessions and the team are excellent in making sure that he is fully involved.

My son completely loved today- and we really enjoyed the performance at the end. What a fantastic workshop, congratulations

My daughter loved her day at Stage Story. What a wonderful, creative and inspiring  experience, so original. She came home saying it was the best day ever and her experience has inspired her to work in film when she grows up!